THE NIGHTMARE CHRISTMAS TREE
Happy Holidays from your Tur administration and staff!



Look at what went and popped out of the ground! Whether you've been naughty or nice, the Nightmare Tree has a lil sumpin' for you, hidden amongst its roots.
The tree took a little longer to get here this year, but looking that good takes time fam. Do mind the toxic mist though.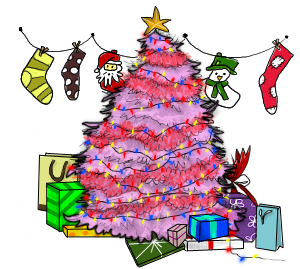 Every player is entitled to one (1) present from the Tur tree!
Some time in January, all of the presents will open and you will be able to see what you got!
Pick whichever one you want - the same present can be chosen by multiple players.
The packaging might look the same, but presents will be different from last year!
#1

#2

#3

#4

#5

#6

#7

#8

#9

#10

#11

#12

#13

#14

#15
To claim a present, reply to this thread with the following code - remember: only one present per player!
Replace the # symbol with the number of the present you want, i.e. "8.png", not "#8.png"
Code: Select all

[center][img]http://forum.theworldoftur.com/images/xmas/2014/#.png[/img][/center]