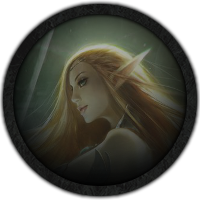 O S E L L Ë ● L O Ë S I A ● A R A V E L L
a private NPC character created by
Arani
• NPC Information •
Full Name:
Sister Loësia Aravell
Heir to Tarnossë Aravell
Lady of the Heartclan
Nickname: -
Race: High Elf
Age: 71 (Born Year 2683 KD, 23 Ch'tiry)
Gender: Female

Deities: In order of priority ...

Taneth, God of Life

↣ Azrul

Muzga, Lord of Elements

◦ Asaar

Ceva, Lord of Love

◦ Asaar

Elenes, Lord of Healing

◦ Azrul

Thonep, Lord of Creation

Bamot, God of Order

↣ Azrul

Anoren, Lord of Judgement

◦ Azrul

Osiph, Lord of Light
• NPC Lifestyle •
Place of Birth: Mevenua, Anari Forest, Rugnos
Current Residence: Mevenua, Anari Forest, Rugnos
Affiliations: Tarnossë Aravell, Tarnossia, Kingdom of Rugnos

Reputation: Local - Tarnossia
Primary Profession: Government: Noble / Heir to Tarnossë Aravell


| | |
| --- | --- |
| Extended Professional and Reputational Description | show spoiler |
• NPC Skills & Abilities •
(P)oor << (A)verage << (F)luent
(N)ovice << (Ap)prentice << (Ad)ept << (E)xpert << (M)aster

●

●●●●

<<

●

●

●●●

<<

●

●

●

●●

<<

●

●

●

●

●

<<

●

●

●

●

●
Languages & Literacy
Elven (True)

↣ Spoken (F), Written (F), Read (F)

Elven (Drow)

↣ Spoken (A), Written (A), Read (A)

Common

↣ Spoken (F), Written (A), Read (F)

Uk'uran

↣ Spoken (P), Written (P), Read (P)

Others

↣ Spoken (A), Written (A), Read (A)
Skills & Talents
Social

↣ Self-Control (M) ◦ Persuasion (E) ◦ Flattery (E) ◦ Diplomacy (Ad) ◦ Leadership (Ap)

Mental

↣ Meditation (M) ◦ Observation (E)

Survival

↣ First Aid (Ad) ◦ Wilderness Survival (Ap) ◦ Tracking (Ap)

Courtly

↣ Etiquette (M) ◦ Hosting (M) ◦ Dance (E)

Artistic

↣ Harp (M) ◦ Flute (M) ◦ Dancing (M) ◦ Singing (Ad) ◦ Gardening (Ad)

Knowledge

↣

History, Politics & Law:

Tarnossia (M), Rugnos (Ad), Elsewhere (Ap) ◦ World Lore (E) ◦ Common Sense (E) ◦ Magic (E) ◦ Mythology (Ad)
Tidetouched & Magic
Tidetouched? Yes.
Magemarked? Yes.
School of Magic: Elemental

Current Extent of Ability: Moderate talent/potential. Physical/Genetical drawbacks.

Aerokinesis

(

●

●

●

●●) ◦

Electrokinesis

(

●

●

●

●●) ◦

Geokinesis

(

●

●

●●●) ◦

Hydrokinesis

(

●

●

●

●●) ◦

Pryokinesis

(

●

●

●●●)
Skill/Experience: Considerable experience and skill. Frequent practice and training.

Aerokinesis

(

●

●

●

●

●) ◦

Electrokinesis

(

●

●

●

●●) ◦

Geokinesis

(

●

●

●●●) ◦

Hydrokinesis

(

●

●

●

●

●) ◦

Pryokinesis

(

●

●

●

●●)
• NPC Appearance •
Height: 1.75 m/5'10"
Weight: 55 kg/122 lbs
Build/Complexion: Lean/Fair
Eye/Hair Color: Sky blue/Platinum blond

Distinguishing Features:


The Magemark below her right eye is often visible to anyone who sees her due to her frequent usage of minor elemental magic, causing it to glow a soft red in varying degrees of brightness depending on the time of her last usage of magic.
A penchant for wearing light blue and silver robes that reflect the moods of the sky and the clouds, along with a fondness for jewelry and other accessories that exceeds that of most of her family.
• NPC Personality •
Alignment: Lawful Neutral

Likes: Peace and stability; keeping the status quo in the Tarnossia as it is; being out in the open
Dislikes: Sudden and rapid change; disrespect towards the culture of the High Elves; storms
Fears: The loss of Tarnossian culture; war and fighting enveloping all the lands; the Dragon Lords


• NPC Background •
Parents: Lánna Aravell (Mother), Liriliön Aravell (Father)
Siblings:

Brothers:

Lénnon Aravell

Sisters:

Olãrial Aravell
Spouse: Raunaëril Aravell né Roniel
Children:

Sons:

Daughters:

Alándira Aravell
Status: Healthy; Currently in Mevenua.

History and Development:


Born in 2683 KD as the prospective Heir to Tarnossë Aravell after Lénnon gave up his position
Has led a relatively sheltered life in Mevenua and is indoctrinated into the conservatism of Tarnossian culture
Manifested Tidetouched abilities in her teens and was sent to the Tideclan to train
Participated in the Spellwar
Did not participate in the Second Crusade
Married Raunaëril Roniel in 2752 KD through an arranged marriage to reaffirm the alliance between Aravell and Roniel
Is not as keen as engaging with the affairs of the world outside the Tarnossia as her mother or greatmother
With her elder brother's relinquishment of the title of Heir, Loësia has since taken over the roles that her brother Lénnon was once supposed to fulfil. Despite her Tidetouched nature she is still treated with respect by many, not in the least by the Thaliens and the Pheriels for her conservative ideology and demeanour compared to both her mother and greatmother. Though she has their competence and their will, it is judged by some that she does not have quite the heart that they do, to the dismay of those who envision the future of the Heartclan and of Tarnossë Aravell as a whole, for the Heartclan is but the soul of the High Clan of Love.

More recently however, her marriage to Raunaëril of Tarnossë Roniel has … mellowed her somewhat, or so her peers have judged her. They say that love is capable of changing a mortal beyond recognition, and perhaps Loësia - though not precisely changed beyond recognition - shows such signs. Often to be found in Mevenua, she has had a relatively sheltered and peaceful upbringing, one that her mother is growing to realize may actually hinder her ability to empathise with those who live in harsher conditions. In the eyes of many, now might be time for an awakening, even if it is a rude one.
• OOC Information •
Type of NPC: Private; you must ask the creator for permission to use this character.
Connected To: Lánna Aravell
Additional Comments: This character can be adopted as a PC if one so wishes, in which total control will surrendered to the player who adopts this character.