Halvard Rutger Wizen
a player character created by
Marjorie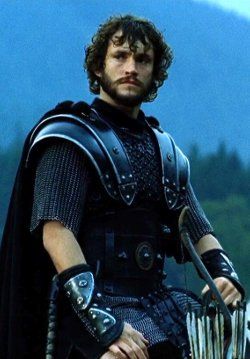 • Character Information •
Name: - Halvard Rutger Wizen
Race: - Human (Borysman)
Age: - 28
Gender: - M
Alignment: - CG
Deity: - Dragon Lords
• Character Lifestyle •
Place of Birth: - Greenwalde, Daryshold
Current Residence: -Greenwalde, Daryshold
Affiliations: - Borys

Reputation: Local - Daryshold
The Wizen family is a noble family of high repute, and as the only son of the current Jarl, Halvard is a person most people find worth noticing… and as currently he is unwed, but betrothed
Primary Profession: –Noble
Secondary Profession: - Captian of the City Guard (Greenwalde); doer of all the things his father is too lazy or to inept to take care of
• Character Skills & Abilities •
Areas of Expertise:
useless>below average>averade>talented>mastered

Languages - Common; Borysian (Fluent/mastered) ... attempting to learn Elvish because of his wife's heratage
Literacy - Common; Borysian (Fluent/mastered)
Swordsmen ship (mastered)
Archery (talented)
Use of armor and shields (talented)
Horsemanship (mastered)
Elemental Magic (average)
A mind naturally keen for politics & strategy (talented)
Good at understanding what people want and what their weaknesses might be (talented)
Charisma/charm/intimidation factor (talented)
Tidetouched? Yes

Magemarked? No
School of Magic: Elemental
Current Extent of Ability: Like his other siblings, Halvard got his mother's gift of being tidetouched. He has not devoted too much time to pursuing training in this area but has some natural ability with it making him neither very talented nor poor at controlling his abilities.

Simple spells like sending a breeze blowing across a room, lighting candles, or freezing a cup of water come easily to him, but he is not good or proficient at casting complex or difficult spells and finds his rare attempts to do so rather taxing.
• Character Appearance •
Complexion: fair
Height: - 5'11"
Build: - Having an average build, Halvard is neither overly muscular nor particularly skinny. Though having been trained in swordsman ship and archery from a young age has left him stronger than he looks.
Eye Color: - hazel
Hair Color: - medium to dark brown hair depending on the light; slightly curly and generally a little unkempt
PLayby: - Hugh Dancy
Description & Personality: -
Halvard is an essentially attractive young man. He's not overly muscular or huge, but rather average in height and weight. He has an often charming smile on his lips and seems to move threw a crowded room with ease. In contrast to his often unruly, slightly curly hair, Halvard keeps a very neatly trimmed beard and mustache.

Halvard has a playful side to him, though he tends to be serious in public because he wants to be taken seriously by other people. Charming and charismatic, Halvard tends to come of as somewhat sweet and very friendly. He's quite the manipulator though and not at all against playing people (even his siblings) off of and/or against each other to get what he wants. He sees things from a strategic standpoint, weather it's an academic practice in battlefield tactics, an exercise in maneuvering around the various nobles at court, or rearranging the deployment of the city guard, he notices weak points and exploits them or shores them up as needed. Halvard is as driven and motivated as he is ambitious. He wants power and influence, which he already has in many ways, though he is always seeking ways to gain more. He is a plotter and a schemer as well - Halvard very much sees life as a game of chess and he doesn't mind sacrificing a few pawns to win it.
• Character Background •
The second oldest child of the Jarl, Halvard grew up the only boy among three sisters. As a result of this he has always felt the burden of being the only son... which of course meant he was to be (or so he decided) the warrior among his siblings. As a child of the Jarl he had been given the advantage of an excellent education, including being extensively trained for combat and battle.

Halvard loved his mother very much as a child and still misses her to this day. He very much resents and blames Lumi for his mother's death. He was very young (4) at the time that that his mother died, at an age where a boy still needs his mother… and at that time he didn't really understand death or what exactly happened to his mother. However as he got older he began to understand more of what happened and he very much holds it against Lumi. It's rare that he would point this out to her directly, and instead tends to take it out on her in small ways. Meaner teasing and a cold shoulder that comes and goes for probably seemingly no reason at all to her, a sometimes sharp tongue for no apparent reason. The only thing he can really recall of his mother is the yellow of her hair and the way it used to tickle his face when she used to carry him... compounding this with the fact that people often note that Lumi looks like their late mother only serves to further his irrational anger toward his youngest sibling.

In general, Halvard is like any other older brother - he likes to tease and torment his younger siblings (and occasionally his older one), all in the name of good fun. Usually he's not cruel or overly unkind about it. He sees his older sister, Sephira, as more of an equal than his other sisters. Though he sees her lack of physical strength as a true weakness and an undesirable trait. Halvard definitely sees Lumi as naive and childish, he believes she lets her heart rule instead of her head. He believes that Talisa is overly, unrealistically idealistic, and to him that makes her come off as childish. Though he respects the tenacity with which she peruses those things she wishes to learn.

At current Halvard is the Captian of the guard in the capital city of Daryshold, Greenwalde where his family resides. He's very proud to have this position and he takes the responsibilities of it very seriously... seeing himself as more than just responsible for the people and the city's safety, but more directly his family's. Family is important to Halvard, as much as he hates his sister Lumi in some ways and doesn't support his father in others - he loves and cares about them all in his own way. To say he is not loyal to his family would be wrong, even if he has his own plans and designs which might be seen as disloyal to some... he has no desire to see any of his family fall or come to harm and there is little he wouldn't do to protect them if they were in danger.

Recent events with the seer, Mjolla Vang, have caused Halvard to change his outlook on life a bit. He's not as quick to anger and he's quicker to smile, a true genuine, smile. He's found inner peace and tranquility, and he believes that in the end, no matter the trials and tribulations he may face, all will be well.

In mid Issera 2754KD Halvard got engaged to Aubre McKenna. Initally he started courting her two years prior because he was underd great pressure from his father to marry and he was seeking someone from a family with some political infuance. He was not seeking love, because love has never meant anything but pain for him... however he did eventually fall in love with the meek girl and now he's glad that she returns his feelings.

There is a lot of resentment between Halvard and his father, at current Halvard basically handles the rule of Dyarshold and his father is mostly just a figurehead.
• Out of Character •
Edit: 11/9/16 - updated background to bring it current